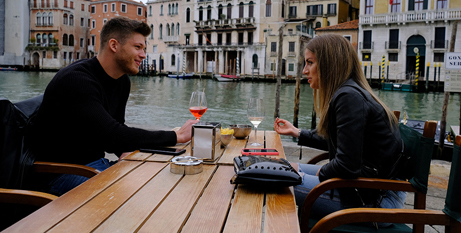 Recent studies show that online dating is one of the most popular ways couples meet each other, but some single Catholics are growing disillusioned with the digital world and searching for — or creating — other options. Source: OSV News.
Czeena Devera, co-founder of Hot and Holy, a Michigan-based Catholic singles' ministry, told OSV News that she knows many successful couples who met online, but believes online dating sometimes causes people to dismiss each other too readily.
"Once you're on online dating, you start looking at people as a series of lists. If you met them outside of the dating app, you probably would have liked them, but, 'Oh, they don't have the right job,'" Devera said.
On the other hand, it can be hard for Catholics to get dates in person, too. "There are a lot of young adult events, but you don't know if the guy you're talking to is single or not."
Devera and some friends were swapping frustrating dating stories in 2021 when they had an idea: what about throwing a speed dating event? They put one together and about 130 people came — well beyond the 50 to 80 they hoped for.
Speed dating, a way to meet many potential dates in one evening, was invented by a rabbi in the 1990s to help single Jewish people find spouses. At a typical speed dating event, participants chat with each attendee of the opposite sex for a set length of time, then privately select which participants they are interested in seeing again. Mutually interested participants are told that they "matched," and contact information is exchanged.
Besides more speed dating events, Hot and Holy also has hosted mixers and trivia nights for single Catholics. It also run pop-up speed dating events in other parts of the US.
"It really started as just a joke. Then it was just an event, and then it grew into, 'Hey, this could actually be a ministry,'" Devera said.
"We're trying to change the culture of dating."
FULL STORY
Can Catholic Speed Dating Ministries Boost Falling Marriage Vocations? (By Rachel Hoover, OSV News)