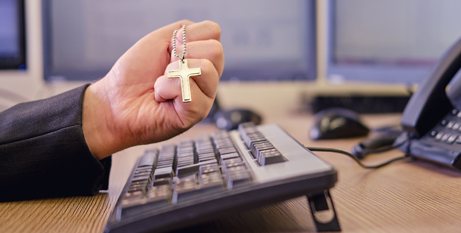 Discrimination against Catholics in the United Kingdom is rife in the workplace and especially in the public sector, a new study has found. Source: The Catholic Herald.
A survey conducted by the Catholic Union said that religious freedom was a "blind spot" for employers actively mistreating and discriminating against people because of their faith.
In a poll of 222 members and supporters, almost a third of respondents (31 per cent) said they had felt disadvantaged at work because of their faith.
Almost three quarters of these instances (73 per cent) occurred in the public sector, the survey revealed.
The survey was carried out to gather evidence to a Parliamentary inquiry into human rights at work, which includes a section on freedom of religion and expression.
The Catholic Union's survey highlighted particular problems in hospitals, universities and the police.
One lay chaplain in an NHS hospital spoke of a "pathological closing down" of chaplaincy work, while another respondent was subject to a formal complaint for saying "God bless" to a patient.
Discrimination was also reported in the arts sector where "people are 'cancelled' if they are even suspected to adhere to the teachings of the Catholic Church", according to one respondent to the survey.
People who work shifts reported problems with being able to attend Mass with one respondent being "refused work due to Sunday obligations". Another person said: "I do not feel comfortable wearing a cross at work".
Lord Alton of Liverpool, a crossbench peer and a Catholic who sits on the Joint Committee on Human Rights, said: "People of all faiths should not be expected to shed or conceal an essential part of who they are when they go to their place of work".
FULL STORY
Employers actively discriminate against people because of their faith, says new study (By Simon Caldwell, The Catholic Herald)