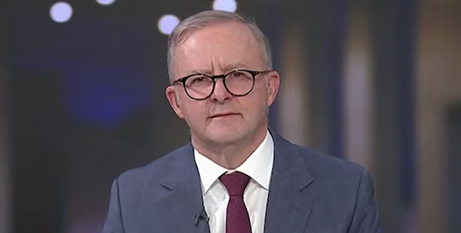 Prime Minister Anthony Albanese says his Government makes "no apology" for its ambitious 24/7 nursing requirement for aged care facilities, despite warnings that struggling providers will shut down if they can't fill rosters. Source: The New Daily.
Wesley Mission announced it will close all its Sydney aged care homes due to being unable to meet workforce requirements by the Government's July 1 deadline.
Mr Albanese denied Aged Care Minister Anika Wells' assurance that the Government would not be "kicking down the doors" of facilities on deadline day was an admission the staffing requirements were introduced too soon.
"Not at all, the fact that 90 per cent have met the requirements already shows that," he told ABC Radio yesterday.
"We make no apologies for being ambitious in this area but we're also being very practical about the way that these issues are dealt with."
Mr Albanese said the way to deliver the best care to older Australians in aged care is to ensure "nurses are available 24/7."
He said about five per cent of the industry's facilities had been granted exemptions as they had "valid reasons" for not meeting the targets. Providers would not be shut down by the Aged Care Quality and Safety Commission, he said.

FULL STORY
'We make no apologies' for aged-care policy: PM (By Tess Ikonomou, AAP via The New Daily)