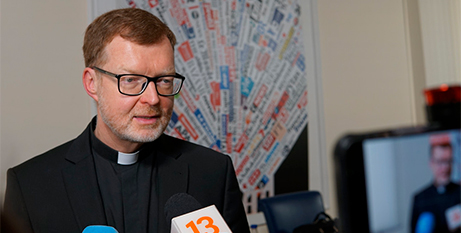 The Pope's safeguarding commission must not be merely engaged in "PR" but become a refuge for those abused by clergy and silenced by the Church, says leading safeguarding expert Fr Hans Zollner SJ. Source: NCR Online. 
Speaking to journalists on Monday about his decision to leave the Pontifical Commission for the Protection of Minors, Fr Zollner expressed his hope that the commission's new home in central Rome will push the commission to take seriously the principles of "transparency, compliance and responsibility", the lack of which he cited as the reason for his departure.
The new centre must be "a central focus point of encounters with victims from around the globe," he said. "This is what people are looking for."
After nearly 10 years of serving on the Pope's advisory body, Fr Zollner said that "it is a continuous impression on the part of victims that they are not listened to," and without naming individuals, he said there are people in the Church, who "for personal or emotional reasons, create obstacles" in the fight against abuse.
Fr Zollner cited "structural and practical issues" with the commission in a statement released on March 29, the date his resignation became public.
Fr Zollner's resignation was made public in a statement by the commission's president, Cardinal Seán O'Malley, who Fr Zollner said "put roses and flowers" on his departure but did not address the problems he claimed to have repeatedly raised to the commission's leadership.
At the news conference, Fr Zollner referenced the "rather intense" changes in recent months that led to a lack of transparency in the selection of the commission's members and made their role in the commission unclear.
Fr Zollner acknowledged that "many victims no longer expect anything" from the Church. Still, there are others that hope to "just once meet the human face of the Church".
"For me the greatest pain is that they don't find it," he said. "If the Church doesn't serve the last, the forgotten, the wounded, then it makes no sense."
FULL STORY
Jesuit who resigned from pope's abuse commission says victims disheartened by group (By Justin McLellan, CNS via NCR Online)