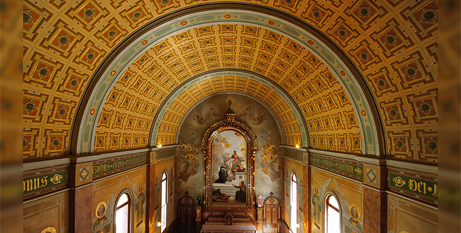 Western Australia's monastery town, New Norcia, has made it to the last stage of the state's Tiny Tourism Town award. Source: The Record.
As one of six finalists for the award, the vote is now put to the public to determine the winner.
"This is the second time we've been nominated for the award", said New Norcia's director of visitor services, Carmel Murray, "but the first time we've made it to the finals. We're confident we can win because our visitors overwhelmingly express their appreciation for this unique town".
The 177-year-old monastery is 90 minutes north of Perth. Founded by Spanish monks in the mid-19th century, the site was originally a mission to First Nations people.
At the turn of the century, the focus turned towards education, with the creation of two colleges, the Byzantine-style St Ildephonsus' for boys, and the Gothic St Gertrude's for the girls.
These buildings, along with the Spanish mission architecture of the Abbey Church, make for a striking contrast to the sweep of canola and wheat fields across the shire of Victoria Plains.
New Norcia has a museum and art gallery, which offers twice-daily guided tours across the town. Self-guided tours take visitors past interpretive signs telling stories of the early settlers, the history of their mission and educational enterprise, and the daily life of a Benedictine monk.
It's even possible to join the monks during one of their six daily prayers in the monastery chapel.
"The Benedictines are committed to a life of work, study, and prayer," said Abbot John Herbert, OSB.
"But St Benedict was also big on hospitality, which he emphasised in his Rule. The monks of New Norcia want to be sure every visitor to our town is welcomed with that spirit of Benedictine hospitality".
Voting is open until April 26. Details: https://www.westernaustralia.com/au/pages/top-tourism-town-awards
FULL STORY
A Tiny Town Like No Other: New Norcia in final run for Top Tourism Town Award (The Record)