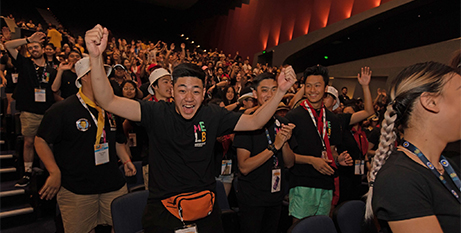 Australia's premier gathering for young Catholics, the Australian Catholic Youth Festival, will conclude the Church's celebration of the international Jubilee Year in December 2025. Source: ACBC Media Blog.
At the November 2022 plenary meeting of the Australian Catholic Bishops Conference, the Archdiocese of Melbourne was selected as the host city for the next festival.
Since then, archdiocesan and Bishops Conference staff have been preparing for the event, considering venues, logistics and, most importantly, spiritual themes.
While the festival was proposed for December 2024, the prospect of a date change emerged during that planning.
"It became clear that the Year of Jubilee in 2025 and its theme, 'Pilgrims of Hope', will be an important spiritual focus for the Church in the coming years," said Archbishop Christopher Prowse, chair of the Bishops Commission for Evangelisation, Laity and Ministry.
"We want to ensure young people are central to our Jubilee Year journey and arrive at the festival having experienced deep local conversations."
Melbourne Archbishop Peter A Comensoli expressed his gratitude that the spiritual considerations and impact of the event are being prioritised.
"There are many logistical demands on an event of the festival's size, and I know young people have a great passion to gather nationally again," he said.
"However, the festival is more than a large event; it is a journey and commissioning of the Church. And what better way to do this than in alignment with the spiritual focus of the universal Church in the Jubilee Year."
The dates and venue for ACYF25 Melbourne will be confirmed later this year.
FULL STORY
Youth Festival to conclude Jubilee Year celebrations in 2025 (ACBC Media Blog)