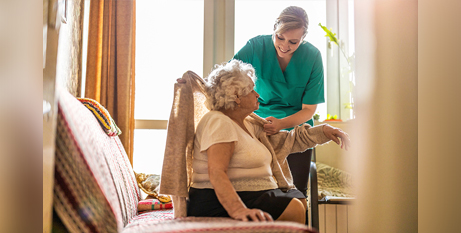 More than 250,000 aged care staff – including nurses, carers, cooks and home care workers – will receive 15 per cent pay rises from July 1 under an $11.3 billion package in next Tuesday's federal Budget. Source: The Australian.
In response to chronic workforce shortages and historically low wages, Treasurer Jim Chalmers will today announce his biggest on-budget spending and deliver Labor's pledge to fund the Fair Work Commission ruling lifting pay for residential aged care and in-home care workers.
The funding boost greatly increases the Albanese Government's spending on aged care, which is now the fifth-largest area of expenditure in the budget and is projected to cost almost $36bn by 2025-26.
Dr Chalmers will use the May 9 budget to outline the Government's medium to long-term strategy managing ballooning spending across aged care, the National Disability Insurance Scheme, defence, health, welfare and debt repayments.
The Treasurer is also expected to announce changes to the single parenting payment, JobSeeker support for older Australians, targeted energy bill relief for vulnerable households and other temporary measures in response to stubbornly high inflation.
With women making up more than 85 per cent of the aged care workforce, Dr Chalmers said the funding would help address gender pay inequality, relieve workforce pressures and deliver Labor's commitment to increase care minutes in nursing homes.
"For too long, those working in aged care have been asked to work harder for longer without enough reward but with this budget, that changes," the Treasurer said.
The $11.3bn wage increases over four years will lift a registered nurse's earnings by almost $200 a week and personal care workers will take home an additional $141 a week, delivering annual pay bumps of more than $10,000 and $7300 respectively.
Head chefs, cooks and recreational activity officers will receive about an extra $140 a week.
The value of home-care packages will be increased to allow for increased wages to be paid.
FULL STORY
15pc pay rises for 250,000 aged care workers in $11.3bn budget package (By Geoff Chambers and Stephen Lunn, The Australian)