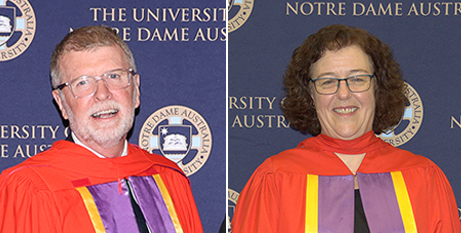 The University of Notre Dame Australia has conferred honorary doctorates on a former New South Wales deputy premier with a passion for healthcare and a former senator turned tireless education advocate.
Honorary doctorates were awarded to NSW deputy premier John Watkins and National Catholic Education Commission executive director Jacinta Collins, a former Labor senator, in a ceremony in Sydney last week.
A Doctor of Education was conferred on Dr Watkins in recognition of his outstanding contribution to health, education and the Catholic community.
The University's Chancellor, Christopher Ellison, said it was an honour to recognise Dr Watkins' exceptional leadership in health and education in Australia and his devotion to the Catholic community.
"Dr Watkins is a passionate advocate for Catholic education and healthcare and has been a great supporter of our university. He has helped facilitate a number of joint research and professional development activities to advance our strategic priorities in Catholic healthcare across Australia," Mr Ellison said.
He said Dr Collins, who was awarded a Doctor of Letters, had dedicated most of her working life to public service and is passionate about ensuring disadvantaged children have access to quality education.
"Dr Collins is a tireless champion for equitable and accessible education and has a deep understanding of the values that underpin a Catholic education," Mr Ellison said.
"Dr Collins has supported the university by expanding our relationship with the NCEC, most notably through support of the development of the university's new Centre for Excellence in Catholic Education. We are delighted to recognise her decades of exceptional work and service to the Australian public and the education sector."
FULL STORY
Former NSW Deputy Premier awarded Honorary Doctorate (University of Notre Dame Australia)
Honorary Doctorate awarded to inspiring advocate Jacinta Collins (University of Notre Dame Australia)