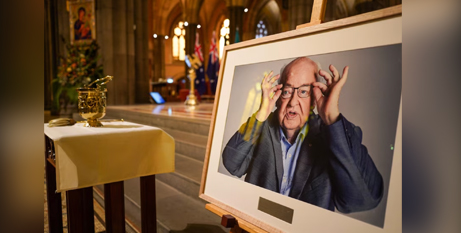 The state funeral of Melbourne priest and social justice campaigner Fr Bob Maguire was held in Melbourne on Friday. Source: 9news.com.
Victorian Premier Dan Andrews joined other politicians, Church leaders and representatives of the charity sector to farewell the popular "people's priest" at St Patrick's Cathedral in Melbourne.
Fr Maguire died last month at the age of 88.
Paying tribute in the service, Mr Andrews said as a parish priest in South Melbourne for decades Fr Maguire had "built a community" by helping the poor and marginalised members of society.
He was the true "people's priest", Mr Andrews said. "In his own words … he loved the unloved and lovely."
Fr Maguire was ordained as a priest in 1960 at the age of 25 and was parish priest of Sts Peter & Paul's Church in South Melbourne from 1973 to 2012.
He became a Member of the Order of Australia in 1989 for his service to homeless youth. In 2011, he was named Victorian of the Year.
He founded the Father Bob Maguire Foundation in 2003, which has a mission to "provide material, emotional and social support to whomever, whenever and wherever necessary".
In his homily, Brisbane Archbishop Mark Coleridge recalled meeting Fr Maguire when the priest was in his early 30s and the archbishop was a teenager.
"In Bob Maguire … I saw something I'd never struck before – a rare human vitality, a passion for the Gospel, an enthusiasm for all that was emerging in the Church from the Second Vatican Council. Bob made the Catholic Church and the priesthood seem exciting, even fun," Archbishop Coleridge said.
"He was very much a man of the people, but he was no less a man of God. For Bob, the two were the same thing: the hungry, the homeless, the lost and the excluded were Jesus. In them God found him and he found God."
FULL STORY
Premier pays tribute to 'people's priest' at state funeral of Fr Bob Maguire (By Richard Wood, 9news.com.au)
Fr Bob Maguire remembered as an Aussie original, who presented a face of religion that Australians responded to (The Catholic Leader)
RELATED COVERAGE
Father Bob Maguire honoured at a state funeral at Melbourne's St Patrick's Cathedral (ABC News)
Father Bob Maguire: Beloved priest farewelled in state funeral (The Australian)