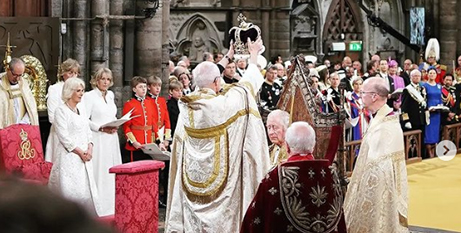 Britain's new monarch King Charles III and his wife Queen Camilla were crowned on Saturday at Westminster Abbey, London, in a religious ceremony rich with ancient traditions and pageantry. Source: Vatican News.
Aged 74, Charles is the oldest British monarch ever to be crowned, having ascended to the throne upon the death of his mother, Queen Elizabeth II, in September last year.
The coronation was a day of lavish celebrations filled with pomp and pageantry but at its heart was a religious ceremony that traces its origins back over 1000 years.
Thousands of dignitaries from Britain and across the world attended the coronation service, led by the head of the Anglican Communion, the Archbishop of Canterbury, Justin Welby.
Although avowedly belonging to the Church of England, the Coronation featured contributions from leaders of other Christian denominations – including Cardinal Vincent Nichols, President of the Catholic Bishops' Conference of England and Wales – in the blessing after the King had been crowned, while other religions were involved in civic elements of the service, The Tablet reports.
Other innovations included the use of Welsh and Scots and Irish Gaelic in the liturgy, while newly-composed gospel music and a Greek setting of Psalm 71 (in memory of the late Duke of Edinburgh) featured alongside traditional Coronation music.
Archbishop Welby's sermon, the first preached at a Coronation for a century, emphasised that Christ was a king "anointed not to be served but to serve".
"He creates the unchangeable law that with the privilege of power comes the duty to serve," he said. "Service is love in action."
Lambeth Palace, which published the liturgy, said that it had evolved from the crowning of King Edgar in 937 and the service made wide reference to the British Isles' Christian history. The procession into the Abbey featured the Augustine Gospels, the 6th century book of Latin gospels sent by St Gregory the Great to aid the conversion of England. The volume has been in England longer than any other book.
FULL STORY
King Charles III formally crowned in London's Westminster Abbey (Vatican News)
Charles crowned King 'not to be served but to serve' (By Patrick Hudson, The Tablet)