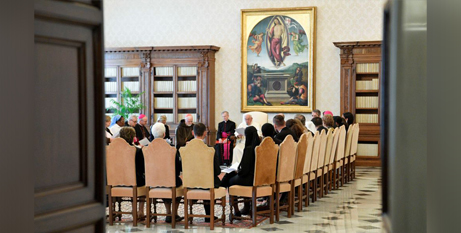 Pope Francis has told an assembly that safeguarding minors and vulnerable persons must be a priority for everyone in the Church. Source: CNS.
"The principles of respect for the dignity of all, for right conduct and a sound way of life must become a universal rule, independent of people's culture or economic and social condition," he said during an audience on Friday with staff and members of the Pontifical Commission for the Protection of Minors at the Vatican.
"All the Church's ministers must respect this rule in the way they serve the faithful and they, in turn, must be treated with respect and dignity by those who lead the community," he said. "Indeed, a culture of safeguarding will only take root if there is a pastoral conversion in this regard among the Church's leaders."
The commission — led by commission president Cardinal Sean O'Malley of Boston – was holding its plenary assembly on May 3–6 at the commission's new offices in the centre of Rome.
"The failure to act properly to halt this evil (of sexual abuse) and to assist its victims has sullied our witness to God's love," Pope Francis told the commission.
In fact, sins of omission, he said, "are very real, and they hurt the community as much as others, if not more so".
However, he said, "We have not remained silent or inactive" in response to the failures.
For example, he said his document, Vos Estis Lux Mundi (You are the light of the world), on the responsibilities and accountability of leaders, "is now permanently in place" as a definitive and no longer "experimental" part of Church procedures.
The document also sets standards for the pastoral support of victims and it "calls, in particular, for setting aside places for receiving accusations and caring for those who report that they have been harmed," the Pope said.
FULL STORY
Pope to safeguarding commission: Be kind, bring hope, heal broken lives (By Carol Glatz, CNS via NCR Online)