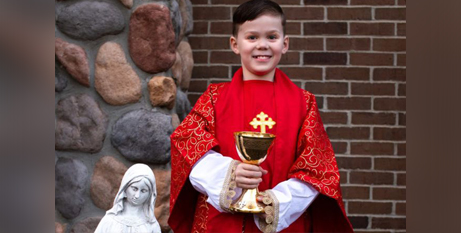 A nine-year-old boy from Michigan who wants to be a priest when he grows up has created a kids' version of the popular "The Bible in A Year" podcast. Source: CNA.
When The Bible in a Year podcast, hosted by Fr Mike Schmitz, shot to the top of the charts at the start of 2021, it inspired millions of people to dive more deeply into the Bible.
But Teddy Howell was not content to merely listen. With the help of his parents, Stephani and Sean Howell, Teddy has created the "Kid's Bible in a Year with Teddy" podcast, which launched on March 12.
In each episode, released on Sundays and Wednesdays, Teddy leads a prayer and then reads a passage from the Great Adventure Kids Catholic Bible Chronicles, a book from publisher Ascension that provides 70 Bible stories arranged in the same timeline order that the Bible in a Year podcast uses.
Stephani Howell said her son, the oldest of six siblings, already loves learning about and sharing his Catholic faith with others. She said he often stays up at night reading the Bible under the covers with a headlamp and recently started serving at the altar at the family's parish in southeast Michigan.
When asked what he wants to be when he grows up, Teddy didn't hesitate — he wants to be a priest.
FULL STORY
Young podcaster emulates media priest Father Mike Schmitz with 'Kid's Bible in a Year' (By Jonah McKeown, CNA)