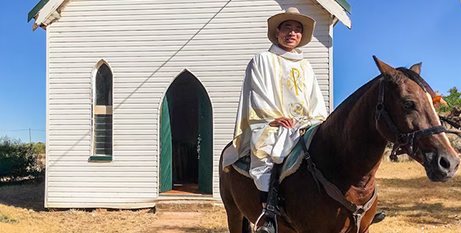 When Fr Thao Van Nguyen started his ministry in the New South Wales town of Coonamble in February, he was a long way from home. Over 6500 kilometres, in fact. Source: ABC News.
His hometown is a village called Ru Dat, in central Vietnam.
"When I came to Australia, I wasn't able to speak English at all," Fr Thao said.
"I had not really heard about Australia either, so it was very scary because I was starting my life again."
There's a critical shortage of priests and ministers in Australia. Churches of all denominations are struggling to fill vacancies, especially in the bush.
To help fill some of those vacant roles, churches have been turning overseas and to priests like Fr Thao for help.
Fr Thao said his strong Catholic ties stretch back to his great grandfather, who was killed because of his religious beliefs.
"One day the soldiers came to our village and chose five religious leaders, including my great grandfather," he said.
"They asked them to deny their faith by walking past the crucifix. But they didn't do so, so they were beheaded. I carry a lot of my great grandfather's strength with me today."
Fr Thao said since his arrival in Coonamble he has seen many people come back to the Church.
Wilcannia-Forbes Bishop Columba Macbeth-Green said he travels up to 70,00- a year to the remote towns in the diocese, which covers more than half of NSW.
Not only does he say Mass, he also helps his congregants in their day-to-day rural life.
"A confirmation at Trangie saw me pull a lady out of the bog prior to the service, which had me present in less than pristine conditions," he said.
FULL STORY
From Vietnam to the Australian bush: Meet the priest bringing new life to rural church communities (By Jennifer McCutcheon, ABC News)