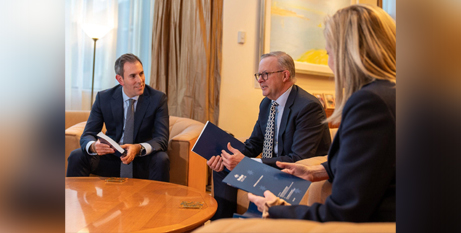 More Catholic organisations have responded to the Albanese Government's Budget, praising it for shining a spotlight on the cost-of-living crisis but cautioning that it will not be enough to alleviate the strain on many Australians. Source: The Catholic Weekly.
Catholic Social Services Australia welcomed the social security and cost of living measures, which include increases in JobSeeker and youth allowance payments and praised an expansion of JobSeeker eligibility, saying many helped by it will be women, those who face more barriers to employment and those at risk of homelessness.
It also welcomed the additional $4 billion over four years for the community services sector to help them meet the cost of inflation and increase staff wages.
"I recognise that solving persistent disadvantage is complex," said Monique Earsman, CSSA executive director.
"We see hope, and this Budget signals that the Government is listening. We will continue to advocate for increased social security payments in future budgets."
The St Vincent de Paul Society's national president, Mark Gaetani, said the Budget "recognises far too many Australians are living in poverty and despair and includes several initiatives that lay a foundation for a fairer Australia".
"However, the lack of substantial increases to JobSeeker and Commonwealth Rent Assistance condemns millions of Australians to continue to live in poverty and desperation," Mr Gaetani said.
In education, Australian Catholic University executive dean of education and arts, Mary Ryan, welcomed measures to boost the qualifications and experiences of early childhood workers.
Professor Ryan said funding including $33.1 million to support up to 6000 early childhood educators to complete paid practicums in initial teacher education courses at a bachelor or postgraduate level would help the vital workforce to upskill.
"This measure will help to ensure our youngest students are taught by educators who themselves are able to pursue opportunities for advancement and lifelong learning," Professor Ryan said.
FULL STORY
Federal Budget cost of living support isn't enough: Catholic agencies (The Catholic Weekly)
Budget takes steps towards a fairer Australia (St Vincent de Paul Society)