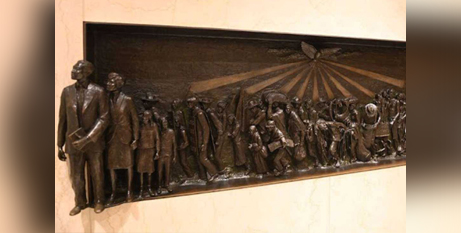 The Archdiocese of Baltimore has formed a 17-member commission to research its ties to slavery going back hundreds of years. Source: UCA News.
"This important commission is being formed to continue the archdiocese's journey to racial justice," said Archbishop William Lori, who has written two pastoral letters on racial justice. "It is essential that we continue to acknowledge the ties to slavery the archdiocese has had in its past and within its foundational history.
"We plan to document the history, expand and detail the apologies of past archbishops with specific historical data, acknowledge systemic racism in the archdiocese today and provide opportunities for community engagement: listening, dialogue, discernment, healing and reconciliation – and, most importantly, turn to prayer and engage in dialogue with the Lord," he said.
The commission was recommended to the archbishop by the Racial Justice Workgroup that was formed during the archdiocese's "Journey to Racial Justice" initiative. The recommendation to form a commission on slavery was included in a document the workgroup presented to Archbishop Lori after hosting listening sessions where numerous members of various parishes spoke about racism.
One of the main priorities of the commission, which has met with the archbishop, is to detail the effects of systemic racism.
"A lot of people say, 'slavery happened so long ago' and that Black people should 'get over it,'" said Adrienne Curry, director of Black Catholic Ministries for the archdiocese. "They need to understand the systemic racism that's involved with that. Going back to the abolition of slavery to Jim Crow, to the Civil Rights Movement, to redlining – all of that has had an effect on the Catholic Church here in Baltimore. The commission will look at that systemic racism and see why we are where we are."
FULL STORY
Baltimore Archdiocese to probe church connection to slavery (By Kyle Taylor, OSV News via UCA News)