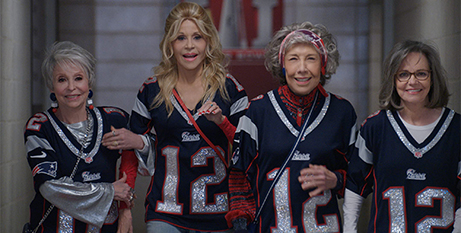 In 80 for Brady, a group of "old ladies" (their term) are devoted fans of the New England Patriots football team and decide to fulfil their lifelong ambition to go to the NFL Super Bowl. Source: Jesuit Media.
80 for Brady is emblazoned on the back of the NFL jerseys worn by four friends who have been following the New England Patriots players, especially Tom Brady, for 16 years. They gather around their television, go through a ritual of spilling tea and throwing crisps, which they think will influence the team to win. 
But the main thing is the friends are all aged 80, plus or minus. In fact, of the four stars, Rita Moreno was 90 at time of filming, Jane Fonda 85, Lily Tomlin 83, and Sally Field a mere 76 (and continually reminding her friends that she is still in her 70s.)
This is a very American film culminating in the annual Super Bowl. For audiences outside the US, the action is bit alien and a bit hard to share the enthusiasm of the octogenarian fans.
However, it is the stars that we are eager to see!
You would have to be a sourpuss not to enjoy the antics as the women try to win tickets to go to the Super Bowl in Houston, find themselves caught up in all the fanfare and the competitions. Betty (Field) wins the spiced chicken marathon catered by TV chef Guy Fieri; Maura (Moreno) wins thousands at poker only to find that it is a charity game; Trish (Fonda) reads from one of her erotic novels to adoring readers; while Lou (Tomlin), with her cancer diagnosis, urges them on for their last hurrah.
Depending on your sense of humour, this is a film that you will laugh at or, perhaps, just smile. The screenwriters try to pile in all the jokes and stereotypes they can, but it is all in cheerful mood.
Review by Fr Peter Malone MSC
80 for Brady: Starring Lily Tomlin, Jane Fonda, Rita Moreno, Sally Field, Tom Brady, Billy Porter, Harry Hamlin, Guy Fieri. Directed by Kyle Rogers. 98 minutes. Rated M (Coarse language).
FULL REVIEW
80 For Brady (Jesuit Media via Australian Catholics)