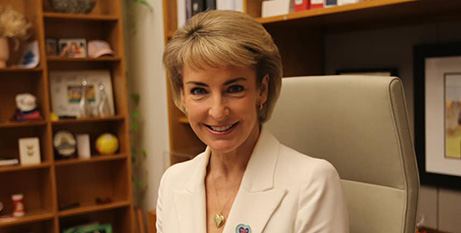 The Coalition's new legal affairs spokeswoman, Senator Michaelia Cash, says Labor must "go back to the drawing board" on religious discrimination laws. Source: The Australian.
Senator Cash also says the Australian Law Reform Commission's proposal put forward in January "fatally undermines" the ability of faith-based schools to promote their religious ethos.
It follows religious leaders venting frustrations at the eight-month delay in the ALRC process – described by Labor as the "first crucial step" in progressing religious discrimination legislation this term – with its final report now due to be handed to Government in December.
The release of the ALRC consultation paper on how sex discrimination and religious discrimination laws would work in schools sparked outrage from faith leaders, who wrote directly to Attorney-General Mark Dreyfus with concerns that the proposal would see principals barred from preferencing the employment of teachers with the same beliefs as the school.
In her first interview as legal affairs spokeswoman, Senator Cash said religious leaders and institutions had expressed to her their concern over the process thus far.
"Ultimately, this should all be about families and the way parents want to educate their children," Senator Cash said.
She backed the ability for religious schools to be able to preference hiring teachers of the same faith, as long as this preference was made "abundantly clear" by the school from the beginning.
The former attorney-general said rather than simply delaying its response to the current submissions before it and reporting back to Government, the ALRC needed to restart consultations and directly address the concerns raised.
FULL STORY
Back to drawing board on faith freedoms, says Michaelia Cash (By Sarah Ison, The Australian)