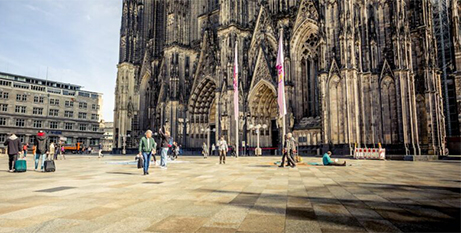 Germany's Catholic Church will be forced to give up a third of its properties in the face of dwindling membership and revenue, according to a new report, with many buildings facing demolition unless converted to other uses. Source: OSV News.
"It's a fact that Church attendance has strongly (been) reduced, with a significant and steady decline in priestly vocations and Church membership, and an increasing loss of financial income," said Matthias Kopp, spokesman for the German bishops' conference.
"However, the closures have not only affected parish churches — the abandonment of monasteries, as well as of Church and charitable institutions, has also led to empty religious houses, pilgrimage centres and chapels," he said.
The lay Catholic was reacting to the early May report in Germany's Kirche & Recht review, which warned that 40,000 rectories, community centres and places of worship would have to be abandoned by 2060.
Mr Kopp said it was unclear whether the report's data had been confirmed by the Catholic and evangelical churches but added that necessary adjustments to "territorial pastoral structures" had long been underway across Germany.
"Some places of worship are either no longer needed at all, or not fully needed, while many congregations are already forced to keep their churches closed outside of Mass times," Mr Kopp said.
The report, by legal experts Adalbert Schmidt and Karl Schmiemann, said 80 per cent of Germany's 42,500 Catholic and evangelical churches were officially listed as architectural monuments.
However, it added that at least 1200 had been boarded up in the past two decades and warned that many others would face demolition unless rapidly converted into cultural and residential centres.
FULL STORY
New report says Germany's Catholic Church faces major decline in membership, revenue (By Jonathan Luxmoore, OSV News)