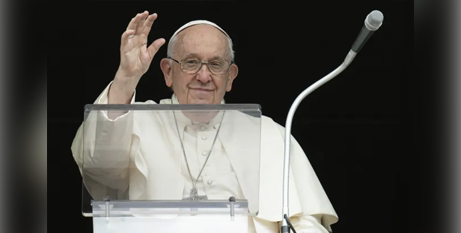 Pope Francis has prayed that the recently signed cease-fire between Israelis and Palestinians will be maintained and that "the weapons will be silenced". Source: CNA.
"In the past few days, we have once again witnessed armed conflicts between Israelis and Palestinians in which innocent people have lost their lives, including women and children," the Pope said in his Regina Caeli address on Sunday.
"I hope that the cease-fire that was recently reached will become stable, that the weapons be silenced because security and stability are never obtained through the use of arms, but rather, every hope of peace will continue to be destroyed."
The Pope spoke hours after a truce between Israel and the Palestinian Islamic Jihad militants in Gaza went into effect on Saturday night.
The Egyptian-mediated cease-fire aims to end a recent surge of violence in Gaza this week that left at least 33 Palestinians and at least two people in Israel dead, according to the Associated Press.
In his Regina Caeli address, Pope Francis asked the Virgin Mary to intercede for all nations suffering from violence.
"Let us turn to her asking her to alleviate the suffering of battered Ukraine and of all the nations wounded by war and violence," he said.
FULL STORY
Pope Francis prays for cease-fire between Israelis and Palestinians (By Courtney Mares, CNA)