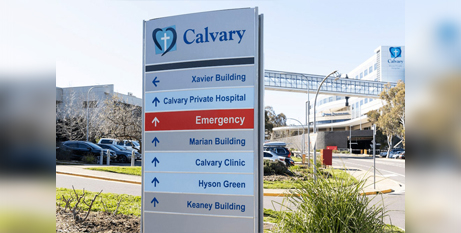 Calvary has attacked "draconian" proposed legal powers for police to enforce the compulsory acquisition of the Bruce public hospital. Source: Canberra Times.
Police could be granted power to use "force as is reasonably necessary" to ensure compliance with the takeover, government legislation says.
But the Government says it has no intention to use the power and would rely on it only in "the most unlikely of circumstances".
The Health Infrastructure Enabling Bill would also give the Government a range of powers in relation to Calvary before the official acquisition.
Officials would be allowed to enter the hospital, provided "reasonable written notice" is given to carry out inspections, undertake a stocktake of hospital equipment and assess what's needed when Canberra Health Services takes over the hospital.
The Government has planned to take over the hospital from July 3 but this date can be changed if needed. The laws are expected to pass the Legislative Assembly on May 31 with support from Labor and Greens members.
Legislation was introduced to the territory's Parliament last week, only one day after the Government announced its plans.
Calvary was shown the legislation only one day before it was introduced. A spokeswoman said the organisation was still considering its legal options in relation to the bill.
"Calvary's initial review of the proposed legislation indicates the territory can effectively tear up our contract without the usual consequences one expects, while also enabling it to enter the hospital and carry out a range of activities before the final acquisition occurs," she said.
"Calvary is extremely concerned about a number of draconian measures in the bill, including that the Magistrates Court can authorise the use of police force in enforcing the bill."
The territory's acting Opposition Leader, Jeremy Hanson, said he was concerned at the measure around bringing in police.
FULL STORY
Calvary acquisition bill could give police power to enforce takeover (By Steve Evans, Lucy Bladen, and Adrian Rollins, Canberra Times)
RELATED COVERAGE
Calvary senior doctors call on government to stop acquisition until there is consultation (Canberra Times)