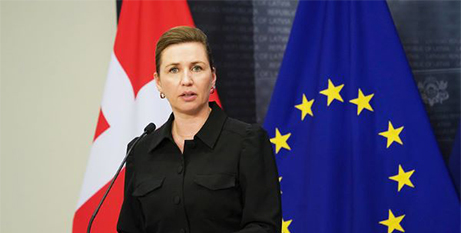 The Brussels-based commission representing the European Union's Catholic bishops (COMECE) has welcomed the withdrawal of a proposed law in Denmark that would have required all religious statements and homilies to be translated into Danish. Source: The Tablet.
"This draft bill would have had negative implications for protection of religious freedom across Europe," Bishop Mariano Crociata, COMECE president, said in a statement.
"It would have entailed an undue hindrance to freedom of religion, a crucial pillar in the architecture of fundamental rights."
The Italian bishop was responding to a decision by the Social Democrat-led government of Prime Minister Mette Frederiksen to withdraw the "law on sermons", tabled in January 2021 at the height of COVID-related restrictions amid fears of Islamist militancy.
Bishop Crociata said Comece understood "the goal of preventing radicalisation and countering incitement to hatred and terrorism", but believed measures like the proposed Danish law did not offer "the right kind of instrument" for doing so.
Any such initiatives should avoid a "negative and discriminatory impact, particularly towards smaller religious denominations", Bishop Crociata said, adding that Comece would continue monitoring "key national initiatives" that could "have a broad impact" on EU-wide religious freedom.
The draft law, obliging religious communities – including Denmark's 270,000 Muslims – to make all public statements available in translation, was criticised by Denmark's Council of Churches for imposing "significant burdens" on religious minorities.
In a statement, Denmark's church affairs minister, Louise Schack, said the Government had withdrawn the law, after concluding it could not meet a March request by the Danish People's Party to re-draft it to affect only Arabic-speaking mosques "loudly preaching against women, democracy, Jews and other minority groups".
The Government's decision to abandon the law was also welcomed by the Geneva-based Conference of European Churches, grouping 114 Anglican, Orthodox and Protestant denominations.
FULL STORY
EU bishops welcome scrapping of Danish religion law (The Tablet)