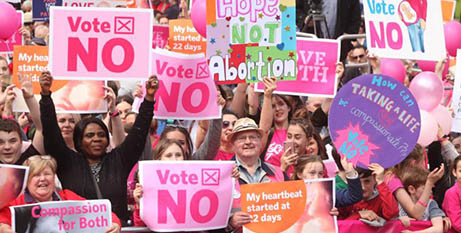 Five years after Irish voters rejected the constitutional amendment that protected "the right to life of the unborn", more than 28,800 abortions have occurred in Ireland since the referendum came into effect. Source: CNA.
Irish senator Rónán Mullen called losing Ireland's pro-life Eighth Amendment in the referendum vote on May 25, 2018, "the most tragic moment in Irish political history" in terms of the number of lives lost.
According to Ireland's Pro-Life Campaign, the country's annual abortion rate has increased by at least 70 per cent, with 28,802 abortions performed in the republic since the referendum came into effect in 2019.
New data provided by Ireland's Health Service Executive on May 25 revealed that there were 8876 abortions performed in Ireland in 2022, a 33 per cent increase from 2021.
"When we look at the change that has happened since it became legal, the most obvious change is that our abortion rates have gone up dramatically," Senator Mullen said.
Eilís Mulroy, the chief executive of the Pro-Life Campaign, said the "alarming" rise in the abortion rate "points to the utter failure of the Government to provide adequate safeguards and pathways to positive alternatives."
One baby is being aborted in Ireland for every seven babies born, Ms Mulroy said.
The amendment legalising abortion came into effect in January 2019. Senator Mullen noted that in the first year that abortions were legalised in Ireland the number of abortions was 6666, "a number that was not lost on lots of people."
The Irish Government is considering a recently released report by the chairperson of a three-year review into Ireland's abortion laws.
The report recommends decriminalising abortion entirely, which would effectively allow for abortion on request up to birth.
FULL STORY
Nearly 30,000 abortions in Ireland since referendum came into effect, pro-life group says (Courtney Mares, CNA)