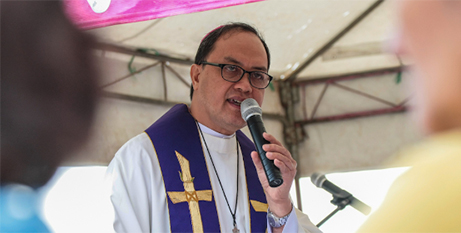 The head of the Catholic bishops' forum in the Philippines has admitted the bishops' failure in addressing contradictory views about an alleged Marian apparition the Vatican in 1951 declared not to be supernatural, which recently led to the arrest of a priest. Source: UCA News.
Bishop Pablo David of Kalookan, president of the national bishops' conference said bishops should have facilitated dialogue to clarify confusion continuing about the alleged Marian apparition in Lipa Batangas, south of the capital Manila.
"We humbly beg forgiveness for this shortcoming," Bishop David said.
A former Carmelite postulant named Teresita Castillo claimed the Virgin Mary appeared to her inside her convent room in Lipa in 1948. People began to venerate Our Lady of Mediatrix of All Graces in Lipa, but after an initial investigation, in 1951 the Vatican officially declared it "non-supernatural".
Philippine Catholics continue to be divided on the apparition, with thousands venerating Our Lady of Mediatrix of All Graces in Lipa.
Fr Winston Cabading OP, from Manila Archdiocese, was arrested on May 13 for allegedly "offending religious feelings" when he purportedly called the apparition in Batangas "demonic".
The 57-year-old Dominican exorcist priest remained in custody up to May 21. He was arrested after a Catholic, who venerates Our Lady of Mediatrix, accused him of offending religious sentiments.
Following Fr Cabading's arrest, the Philippine Association of Exorcists and other lay groups rallied behind the priest.
Harriet Demetriu, a former trial court judge, who complained against Fr Cabading, said the Philippine hierarchy are spreading lies about the apparition.
That a Catholic would feel the need to seek recourse to the civil court for an issue related to "matters of faith is extremely disheartening, to say the least," Bishop David said.
"I wouldn't be surprised if the court rules it to be beyond its competence."
FULL STORY
Philippine bishops admit to Marian apparition 'failure' (UCA News)