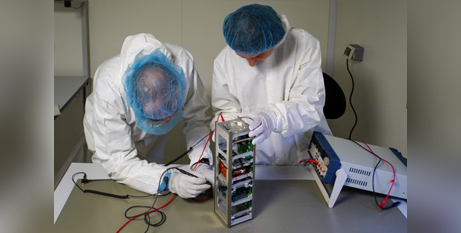 A satellite with Pope Francis' words from a blessing given during the early days of the COVID-19 pandemic was successfully launched into space on Monday. Source: CNA.
The "Spei Satelles" mission, Latin for "Satellites of Hope", launched on a Falcon 9 rocket from the Vandenberg Space Force Base in California on Monday.
According to the Vatican, the miniature satellite, called a CubeSat, "is now en route to a heliosynchronous orbit, approximately 525km above the Earth's surface".
"After months of intense work, we eagerly awaited the moment when Spei Satelles would reach the launch pad," said Sabrina Corpino, the leader of the Polytechnic University of Turin students who built the satellite.
"Once the launch took place," she said, "the students realised that their hard work had truly reached space, and they had contributed to the creation of a real space mission."
The miniaturised satellite, which can now be deployed into orbit from the rocket, holds a copy of a book documenting the Pope's urbi et orbi blessing of March 27, 2020, when, in the midst of the COVID-19 pandemic, he blessed the world from St Peter's Square with the words: "Lord, may you bless the world, give health to our bodies, and comfort our hearts."
"You ask us not to be afraid," the Pope prayed. "Yet our faith is weak and we are fearful. But you, Lord, will not leave us at the mercy of the storm."
The book, Why Are You Afraid? Have You No Faith? The World Facing the Pandemic, has been converted into a nanobook, a 2mm by 2mm by 0.2mm silicon plate, for transport to space.
Pope Francis blessed the satellite and the nanobook after his weekly public audience in St Peter's Square on March 29.
FULL STORY
Satellite with Pope Francis' words launches into space (CNA)