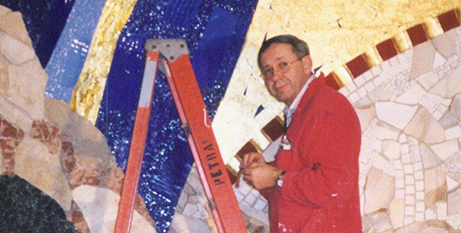 The Superior General of the Jesuits has expelled Fr Marko Rupnik from the order, citing his "stubborn refusal" to obey measures imposed following credible accusations that he spiritually, psychologically or sexually abused some two dozen women and at least one man. Source: OSV News.
The expulsion does not immediately affect his identity as a priest although he would need to obtain permission from a bishop to exercise any kind of priestly ministry. He also has 30 days to appeal the decision.
Fr Johan Verschueren SJ, Fr Rupnik's immediate superior in Rome, issued a declaration yesterday confirming that Fr Arturo Sosa, the Jesuit Superior General, had signed a decree on June 9 dismissing Fr Rupnik from the order and that Fr Rupnik received the decree on Wednesday.
"This was done in accordance with canon law, due to his stubborn refusal to observe the vow of obedience," Fr Verschueren said.
The Jesuits had confirmed in December that Fr Rupnik, whose mosaics decorate churches and chapels at the Vatican and around the world, was operating under restrictions on his ministry because of abuse allegations and that he briefly had been excommunicated in 2020 for absolving in confession a woman with whom he had had sex.
A year later, the Jesuits said, several members of a women's religious community in Slovenia accused Fr Rupnik of abuse, but the then-Congregation for the Doctrine of the Faith dismissed the case because the statute of limitations had expired.
The Jesuits then asked anyone who had been abused by Fr Rupnik to contact their review board and another 14 women and one man came forward.
Fr Verschueren said the Jesuits strengthened the restrictions on Fr Rupnik's ministry following the recommendations of the review board. He had already been barred from hearing confessions, offering spiritual direction and leading retreats and was required to have the permission of his superior before leaving Rome, publishing articles or books or engaging in any public ministry. The additional measures prohibited him from doing any artistic work in public, and especially not in churches or chapels.
Numerous news reports indicated he violated those restrictions.
FULL STORY
Jesuits expel mosaic artist Father Rupnik, accused of abuse (By Cindy Wooden, CNS via OSV News)
RELATED COVERAGE