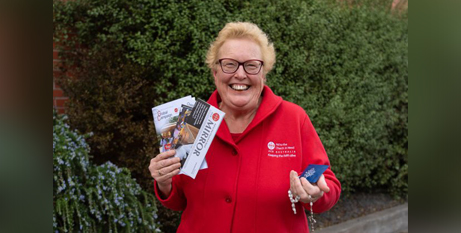 Praying for persecuted and oppressed Christians around the world should be a natural part of being Catholic, according to Tasmanian Mary-Anne Johnson. Source: Hobart Archdiocese.
"The Catholic Church is universal, a worldwide church, it's not just Australian. It's us, it's everybody. And so, it's part of our responsibility for our brothers and sisters in faith," she said.
Ms Johnson has been visiting parishes across Hobart Archdiocese in her role as a Diocesan Outreach Assistant for international Catholic charity Aid to the Church in Need (ACN).
In her presentations at the end of Sunday Mass she seeks to raise awareness of the work of ACN in its spiritual and pastoral outreach to Christians suffering persecution around the world.
"We're all together, we're all Christians, and how can we say 'no' when they're suffering so much? Even if it's just that solidarity. Even if it's just a prayer, that's going to be so powerful."
According to ACN, 200 million Christians worldwide are currently not free to practice their faith, and in more than 40 countries Christians are persecuted, discriminated against or oppressed.
Ms Johnson encourages people to sign up for ACN's newsletter The Mirror, which is supplied free of cost. When people sign up they receive as a gift rosary beads blessed by the Pope.
ACN is running a global campaign to support Christians in Nigeria who face fierce persecution from terrorist Islamist groups.
As Ms Johnson pointed out, such suffering is rarely reported in the mainstream media.
"There's hundreds of thousands of people who are suffering … [we] can try and learn and share the stories that … you don't hear as much in the media. They're not seen as a priority."
Details: Aid to the Church in Need.
FULL STORY
Standing in solidarity as the body of Christ (By Catherine Sheehan, Hobart Archdiocese)