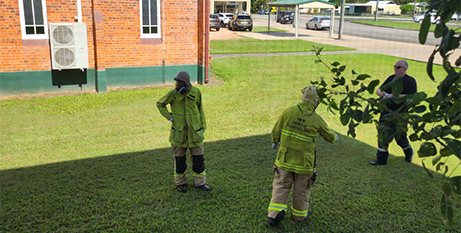 At least 20 packages containing a white substance have been sent to North Queensland Catholic churches and schools, private homes and businesses in the past four weeks. Source: Townsville Bulletin.
Police believe the incidents are likely linked and originate from Townsville.
Townsville Crime Services Detective Inspector Jason Shepherd said while the majority of the mysterious packages included a non-toxic substance, some also included "paper or cards with religious overtones".
Three packages were delivered to various addresses in North Queensland yesterday, with the third found at the St Patrick's parish office in Ingham.
Two Queensland Emergency Services crews were seen exiting the historic building at St Patrick's, which is part of Ingham Region Catholic Parish.
The church is next to a primary school, Our Lady of Lourdes Catholic School.
Children were at play when fire crews wearing hazmat suits exited building, placing the container at the rear of the property and sealing it off with warning tape.
Fr Damian McGrath, parish priest of the Ingham Region Catholic Parish, said he was impressed by the way local emergency crews were able to work together to contain the threat.
Suspicious packages were also discovered at St Patrick's College, The Strand, and the Townsville CBD, Australia Post said yesterday.
Another suspicious package was at St Margaret Mary's College in Townsville on Wednesday morning.
Inspector Shepherd said it was difficult to say if the person responsible was deliberately targeting religious institutions because the packages had also been sent to private residences with no clear links.
Investigations are ongoing.
FULL STORY
Police, QFES called to suspicious package at Townsville CBD business (By Caitlan Charles, Townsville Bulletin)