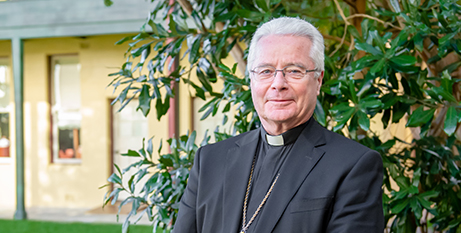 After more than a decade, the Personal Ordinariate of Our Lady of the Southern Cross will experience a major change in its leadership — and its retiring ordinary has given it his blessing. Source: The Catholic Weekly.
Msgr Carl Reid said that while he is disappointed the new leader is not a member of their community, the appointment of Broken Bay Bishop Anthony Randazzo as the ordinariate's apostolic administrator is an "obvious choice" due to his long involvement with the ordinariate since the promulgation of Anglicanorum Coetibus by Pope Benedict XVI.
Traditionally, its leadership has been sourced from its own membership who have had previous episcopal experience as bishops in the Anglican communion.
However, Msgr Reid believes it will be "business as usual" for its 17 clergy and hundreds of parishioners around Australia.
"It's a very small gene pool of former Anglican bishops who are now members of the Catholic Church and of anybody that could have been chosen who is not an Ordinariate priest, Bishop Randazzo is the obvious choice.
"He was in Rome when Anglicanorum Coetibus … was introduced and he got to know Bishop Steven Lopes, our Bishop in North America, when the whole thing began."
The Personal Ordinariate of Our Lady of the Southern Cross is one of three such ordinariates in the world created by Pope Benedict in 2012 to provide a pathway for Anglicans to full communion in the Catholic Church while retaining elements of their worship, traditions, and spiritual heritage.
Bishop Randazzo, who will continue as Bishop of Broken Bay as well as President of the Federation of Catholic Bishops Conference of Oceania, will officially take up his role of Apostolic Administrator of the Personal Ordinariate of Our Lady of the Southern Cross next month.
FULL STORY
Bishop Randazzo 'obvious choice' says outgoing ordinariate head Msgr Carl Reid (By Debbie Cramsie, The Catholic Weekly)