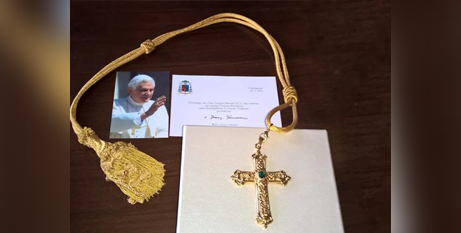 A pectoral cross bequeathed by the late Pope Benedict XVI to a parish in his native Bavaria has been stolen from the church where it was on display. Source: CNA.
Unknown perpetrators broke open a display case on the wall of St Oswald's Church, Traunstein,  during daylight hours on Monday. Police said cash was also stolen from the cash register of a literature stand in the church.
The value of the cross to the Church is "not quantifiable," the police said. Authorities are asking anyone who saw anyone suspicious near St. Oswald's on Monday or has any other information to come forward. The Traunstein district-attorney's office is leading the investigation.
Former Cardinal Joseph Ratzinger was born in the small Bavarian community of Marktl am Inn. When Joseph was two-years-old, his father moved the family to Traunstein, where he studied at the seminary.
According to a spokesman for the Munich and Freising Archdiocese, the late pontiff celebrated his first Mass as a newly ordained priest at St Oswald's in 1951. The cross was sent to Traunstein after Benedict resigned in 2013 and it has been exhibited in the now-broken display case since 2020.
FULL STORY
Pectoral cross of Benedict XVI stolen from Bavarian church (By AC Wimmer, CNA)