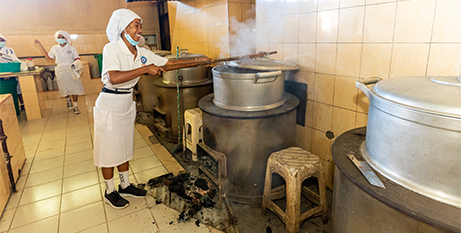 Catholic Mission, the Australian agency of the Pontifical Mission Societies, is helping to change lives and give a voice to the youth of Timor-Leste.
With 97 per cent of the population being Catholic and a median age of 21, the voice of the youthful population carries a strong message of hope and change. However, young people are faced with a challenging economic landscape and struggle to find sufficient employment opportunities, especially in rural areas like the Diocese of Baucau.
Venilale, a remote town situated 40 minutes inland from the town of Baucau , is a representation of this reality. The ability for young people to pursue higher education or learn a trade is severely hampered by financial constraints.
"Many students are poor, they lack a lot of things to support them," says Salesian Sister Anita Freitas, director of the St Maria Mazzarello Vocational School in Venilale.
Established by the Salesian Sisters in 1994, the school supports 214 students and stands as a beacon of hope for the youth of Venilale.
Madalena*, a student at the vocational school, said, "I am very grateful that I can attend this school. I can gain experience … I will open my own cafeteria."
The school is urgently in need of refurbishment to continue welcoming students and offering them quality education in a learning-conducive environment.
"Financial support to keep the St Maria Mazzarello School running to a higher standard means we can continue reaching out to young girls like Madalena, providing them with local opportunities to secure a future and gain financial independence," Catholic Mission national director Fr Brian Lucas said.
As the financial year comes to a close, Catholic Mission invites everyone to consider making a tax-deductible donation to help change lives and give a voice to the youth of Timor-Leste.
Details: catholicmission.org.au/passageofhope
*Name changed to protect identity.
FULL STORY
End‐of‐Financial‐Year Giving Igniting Change and Empowering Youth in Timor‐Leste through Education (Catholic Mission)