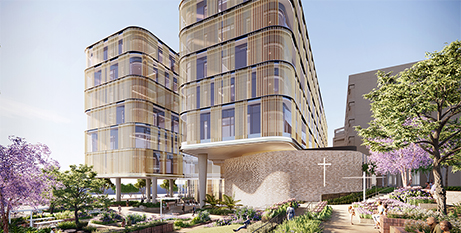 The transformation of St John of God Subiaco Hospital has reached a milestone with the Western Australian Planning Commission granting approval for the hospital's redevelopment. Source: The eRecord.
The State Development Assessment Unit noted that the redevelopment would deliver a "high quality and substantial investment in the health care sector", which would "positively impact the surrounding streetscape" and align with the local planning framework.
St John of God Health Care Group chief executive Bryan Pyne said the redevelopment would build on the hospital's proud 125-year legacy of delivering quality, patient-centred care.
"The redevelopment will transform the Subiaco hospital campus, delivering a world-class, private hospital of clinical excellence, supporting healing, new life and innovation in a contemporary environment," Mr Pyne said.
"The redevelopment is consistent with our commitment to ensuring the standard and range of services we provide are totally aligned with community and patient needs as we move into the future.
"It will enhance the surrounds by improving connectivity across the campus and creating new public spaces for the community.
"In addition, the redevelopment will deliver a multi-million-dollar investment into the local community and WA economy, creating jobs during the construction and post-construction phases."
The redevelopment is vital to replace ageing hospital infrastructure, as well as updating and expanding patient accommodation.
The centrepiece is an eight-storey clinical block, which will include a dedicated mother and baby centre, heart centre, new operating theatres and spacious, larger hotel-style single rooms.
WAPC approval comes as the St John of God Health Care Board recently approved the procurement strategy for the next two stages of work – reaffirming the board's continuing commitment to the project.
FULL STORY
St John of God Subiaco Hospital expansion approved by WA Planning Commission (The eRecord)