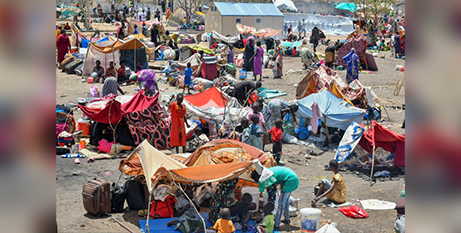 Church leaders representing various denominations in Africa have called on the African Union, governments and regional bodies to take immediate action to stop a "repetition of genocide" in Sudan's Darfur region and "other war crimes and crimes against humanity". Source: Crux.
In a joint statement issued on June 24, members of different ecumenical organisations including the Association of Member Episcopal Conferences of Eastern Africa (AMECEA) and various other Christian bodies, such as Bread for the World and the World Council of Churches, expressed concern over the continued killings and rights violations in Sudan.
The statement was signed, among others, by Fr Antony Makunde, Secretary General of the Association of Member Episcopal Conferences of Eastern Africa, who noted that the conflict that started April 15 "has so far displaced hundreds of thousands and killed hundreds of people, and seems to have no immediate prospect of ending".
The current fighting has brought disturbing memories of a genocide that unfolded in the Darfur region 20 years ago, especially given that military generals leading the current conflict were also involved in the 2003 genocide.
General Abdel-Fattah Burhan, who now commands the Sudanese Military, is fighting against General Mohammed Dagalo, the head of the paramilitary Rapid Support Forces, ending their temporary alliance after both men came together to overthrow the government of Omar Al- Bashir in 2019.
They are fighting for political control, but more importantly for the control of their economic empires.
In their June 24 statement, the Church leaders expressed concern over "unwarranted destruction and looting of civilian and public infrastructures including schools and hospitals; and the continued use of citizens and civilians as human shields, therefore, exposing them to grave dangers".
They condemned "all forms and acts of violence by all parties, because such acts are against the fullness of life of God's people".
FULL STORY
African church leaders warn of new genocide risks in Sudan (By Ngala Killian Chimtom, Crux)