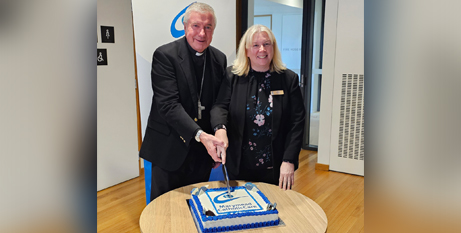 The historic merger of Marymead Child and Family Centre and CatholicCare Canberra and Goulburn launches a new era for an agency with a rich history and clear vision for the future, says the organisation's chief. Source: Catholic Voice.
"This is a huge milestone day for us," Marymead CatholicCare chief executive officer Anne Kirwan said at last week's launch.
"We begin a new chapter in our caring journey, and we are incredibly proud that our foundations hold the stories of courageous, passionate, hard-working, committed women and men who rolled up their sleeves to provide essential services and spiritual support during critical periods in the lives of others."
Ms Kirwan said the organisation, the social services arm of the Canberra-Goulburn Archdiocese, had inherited a living legacy of social action that continues to this day.
Both Marymead and CatholicCare evolved from grassroots movements where lay women and men worked alongside religious sisters, priests and parishes to respond to what was happening within their communities.
"They mustered support and utilised their networks to reach out to those experiencing disadvantage and hardship within their neighbourhoods and communities, and offered their care and resources," Mrs Kirwan said.
"Both organisations have always been supported by local communities and volunteers."
Marymead CatholicCare operates across both the ACT and regional New South Wales areas employing over 600 staff – the footprint extends across Canberra, into Queanbeyan, Goulburn, Young, Wagga, the South Coast and down through the snowy region.
Archbishop Christopher Prowse said the launch was a very significant historical moment in the long life of the Catholic Church in the Canberra and Goulburn Archdiocese.
"We all know that they will be stronger together and will enable us to, along with health and education, outreach our social service arm of our Catholic contribution here in this area of Australia," he said.
FULL STORY
Merger ushers in new era for social services in the Archdiocese (By Veronika Cox, Catholic Voice)