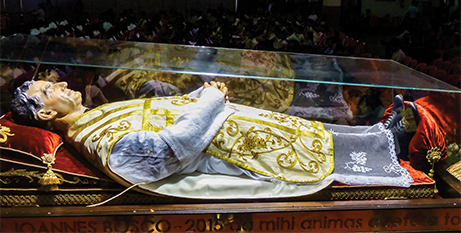 The relic statue of St John Bosco, better known as Don Bosco, is touring Australia as part of the celebrations of the centenary of the arrival of the Salesians on Australian soil. Source: Melbourne Catholic.
The Salesians landed in Australia at Fremantle, Western Australia, on March 30, 1923.
The wax replica of the saint is contained in a glass casket and comes from the Salesian Province of Hong Kong, where it was made by Gianpiero Zoncu at the time of Don Bosco's beatification in 1929. A small piece of brain from the saint was removed and placed in this wax replica before being securely concealed in the large glass casket.
John Bosco was born on August 16, 1815, in a farmhouse near a small village east of Turin in northern Italy. From the time of his childhood, he felt a strong desire to help young people in need. He was ordained as a priest in Turin in 1841, at the age of 26, and dedicated his life to helping young people to become "good Christians and upright citizens".
Having worked untiringly with the young for more than 40 years, Don Bosco died on January 31,1888, in Turin. He was declared a saint by Pope Pius XI on Easter Sunday, April 1, 1934, and is the patron saint of young people.
The 400-kilogram glass casket containing the wax replica of St John Bosco arrived at the Salesian Province Centre in Ascot Vale, Victoria, last week. It will be on tour and displayed for prayers and homage at various Salesian works in Melbourne, Sydney, Adelaide, Hobart and Perth until September.
FULL STORY
Relic statue of St John Bosco to tour Australia for Salesians' centenary (Melbourne Catholic)