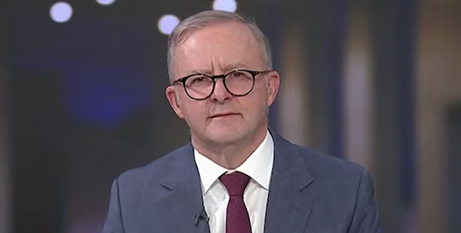 Prime Minister Anthony Albanese has left the door open to providing further cost-of-living relief for struggling Australians but cautioned against expectations of a looming "cash splash". Source: News.com.au.
The Prime Minister confirmed the Government planned to bank most of the savings from the inflated budget surplus and said the support measures already in place would help ease the burden on those doing it tough.
"On Saturday … we saw cheaper childcare come in. We saw paid parental leave be extended. We saw a tripling of the Medicare bulk billing rate so that 11 million Australians can see a doctor for free," he told the ABC.
"We saw the funding for Medicare urgent care clinics so that more people can get access to a doctor. We saw energy price relief, a $3 billion plan between the Commonwealth and state and territory governments to take that pressure off energy price increases as well.
"We saw all of those measures come in just over a week ago. But we'll continue to examine what we can do."
But Mr Albanese stressed the need for the Government to work "hand-in-hand" with the Reserve Bank.
"If the Government just splashed money around, that would put upward pressure when it comes to inflation, which would work counter to what the Reserve Bank is doing on monetary policy."
Monthly figures released by the Finance Department last week showed the budget surplus had swelled to $19 billion in May off the back off a tight jobs market boosting tax revenue.
That figure far exceeded the forecasted $4.2 billion which was unveiled by Treasurer Jim Chalmers just two months ago.
But the opposition has claimed the Government is not doing enough to trim back spending to address the inflationary pressures being passed onto households struggling under the weight of rate rises and price hikes.
FULL STORY
Anthony Albanese mulling over further cost-of-living relief but denies it would be a cash splash (Courtney Gould, News.com.au)