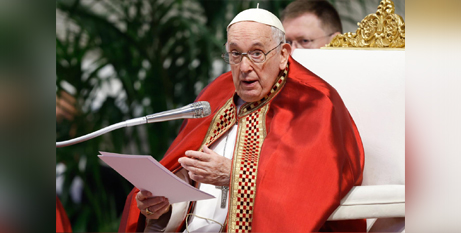 Pope Francis has created a new commission to research and catalogue the stories of Christian martyrs from the third millennium, the Vatican announced yesterday. Source: CNA.
In a letter published yesterday, Pope Francis said he has established the "Commission of New Martyrs — Witnesses of the Faith" within the Dicastery for the Causes of the Saints.
The commission's task will be to create an archive of the lives of Christian martyrs, both Catholic and non-Catholic, killed in the past 25 years, the Pope said.
He noted that he was not modifying canon law on the formal recognition of martyrdom in the Catholic Church but wanted the testimonies of those killed for being Christian to stand "side by side with the martyrs officially recognised by the Church."
"As I have said many times," he wrote, "the martyrs 'are more numerous in our time than in the early centuries': they are bishops, priests, consecrated men and women, lay people and families, who in the different countries of the world, with the gift of their lives, have offered the supreme proof of charity."
The Pope said he created the commission in light of the Church's 2025 Jubilee Year, which will focus on the theme of hope.
"Hope keeps alive the deep conviction that good is stronger than evil because God in Christ has overcome sin and death," he said.
Francis also recalled that St Pope John Paul II had formed a similar commission on new martyrs for the Great Jubilee 2000, which received 13,000 testimonies of men and women who gave their lives for Christ in the 20th century. Some of these stories were shared during an ecumenical prayer service in the Colosseum on May 7, 2000.
Pope Francis said the 2025 Jubilee Year will include a similar event in order to remember what he has called the "ecumenism of blood".
FULL STORY
Vatican to collect stories of Christian martyrs killed since 2000 (By Hannah Brockhaus, CNA)
RELATED COVERAGE
Pope establishes 'Commission of New Martyrs – Witnesses of the Faith' (Vatican News)