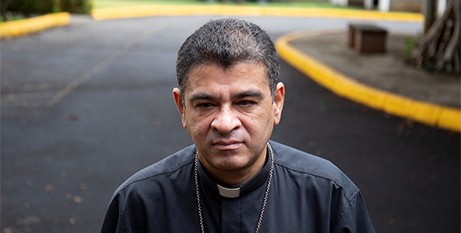 Nicaraguan Bishop Rolando Alvarez was released from prison late on Monday, a diplomatic source said, marking a possible turning point in the country's prolonged crackdown on the Catholic Church. Source: Sight Magazine.
The source said on Tuesday that negotiations between the Nicaraguan Government and the country's Catholic bishops were going on over Bishop Alvarez's future, and the prelate was at the Catholic episcopal compound in the capital.
The source, who declined to be identified, added that talks included the possibility that the bishop might be expelled from the Central American country or otherwise sent into exile.
The Government did not immediately respond to a request for comment on the release of Bishop Alvarez after normal business hours on Tuesday.
If the bishop refused to leave the country, he could be returned to prison, the source said.
Earlier in the day, the news outlet Confidencial reported that Bishop Alvarez had been released on Monday night, citing Church and diplomatic sources.
Bishop Alvarez, the bishop of rural Matagalpa Diocese and a prominent critic of President Daniel Ortega, was jailed last year and was this year sentenced to 26 years in prison on treason charges after he refused to be expelled to the United States.
Formal ties between the Government and the Vatican were severed this year after Pope Francis derided Ortega's Government as a dictatorship.
FULL STORY
Nicaraguan Catholic Bishop Alvarez freed, talks going on – source (By Ismael Lopez, Reuters via Sight Magazine)