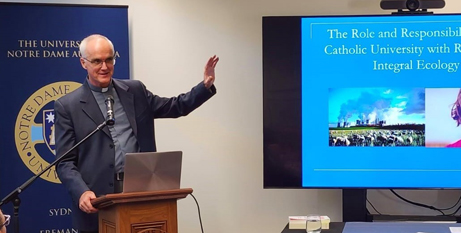 Catholic universities have been urged to help reshape the future by sharing Pope Francis' vision for a fairer and more sustainable world with the next generation of leaders coming through their classrooms. Source: UNDA.
Speaking at a public lecture held at the University of Notre Dame Australia's Broome campus last week, Professor Gerard Whelan SJ, from the Pontifical Gregorian University in Rome, said Catholic universities were in a unique position to act as "culture builders" by integrating the goals outlined in Pope Francis' 2015 encyclical Laudato Si' into their curriculums.
Laudato Si' is a call to action for all people, not only Catholics, to "hear the cry of the poor and the cry of the planet" and take action to address the challenges confronting our world.
UNDA is a signatory to the Laudato Si' Platform and the public lecture was held to inform the development of the university's own Laudato Si' action plan, as well as to generate discussions and ideas as to how the broader community could make a contribution to this important work. 
Professor Whelan said Laudato Si' teaches that the world is approaching a tipping point where the worst impacts of climate change are in danger of becoming irreversible. But the prevailing political culture, which is dominated by a "technocratic paradigm", continues to prioritise the quest for economic growth over the welfare of human beings and the planet.
"This is an opportune moment where the world needs the right kind of Catholic university … one that can redeem modern thinking … by relinking the moral and ethical with the technocratic paradigm," Professor Whelan said.
Following the lecture, Professor Whelan held a roundtable with university's staff to discuss the practical steps needed to integrate the principles of Laudato Si' into the curriculums of all faculties. 
UNDA vice-chancellor Professor Francis Campbell said Broome was the ideal setting for the discussion given the emphasis Laudato Si' places on the lessons that can be learnt from Indigenous cultures about caring for our common home. He said he looked forward to the university delivering its action plan in the near future.
FULL STORY
Notre Dame embraces the Pope's challenge to care for our common home through Laudato Si' (UNDA)