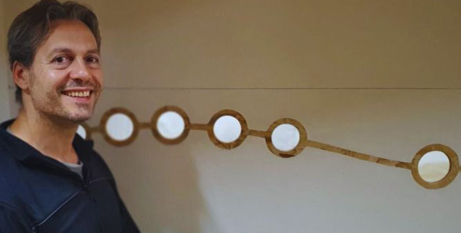 Days before being released after six years in jail for drug trafficking, Pedro Silva put the finishing touches on the 50 confessionals that, together with four other prisoners, he built for World Youth Day in Lisbon next month. Source: CNA.
Some things take time. Silva needed to reach the age of 50, celebrated in a high-security prison cell, to look back and understand the "signs" he received along the way.
"I realised that God was always with me. He doesn't give up on us, so we can't lose hope," he said with the smile of someone who believes he is about to start a new life.
While still in prison, Silva spoke about one of the first missions he will undertake post-incarceration — participating in WYD as a volunteer and helping to set up the confessionals in "Reconciliation Park," which is being prepared in a Lisbon district called Belém (in English, "Bethlehem"), located alongside the Tagus River.
In all,150 confessionals were built in three Portuguese prisons, following an agreement between the WYD Lisbon 2023 Foundation and the Directorate-General for Reinsertion and Prison Services, with the aim of valuing the professional skills of prisoners and contributing to their reintegration into society.
Upon learning of Silva's intention, the WYD Local Organising Committee was overjoyed.
"We are very interested in complying with his wishes and we will do all the necessary steps so that he can participate in the setting up of the confessionals," said the spokeswoman for the WYD Lisbon 2023 Foundation, Rosa Pedroso Lima.
During WYD, from August 1-6, distributed among the confessionals will be priests of different nationalities (and, on the morning of August 4, the Pope himself), available to listen to pilgrims from all over the world who wish to receive the sacrament of reconciliation.
FULL STORY
From prison to World Youth Day: Man builds 50 confessionals to be used for pilgrims (By Clara Raimundo, CNA)