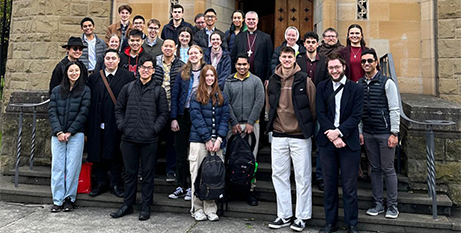 Catholic university students from around the country gathered in Melbourne last week for the annual Australian Catholic Student Association conference. Source: Melbourne Catholic.
The conference included formative talks on theology, philosophy and spirituality, a soccer match and its pinnacle event, the Mannix Ball.
The conference's theme was "Be Not Afraid," in honour of the late Cardinal George Pell, who took those words as his episcopal motto.
The outgoing ACSA president, Harvey Inamac, said the conference wanted to honour Cardinal Pell's legacy as someone deeply invested in the lives and formation of university students.
"His vision for students was to form friendships with good Catholics and stand firm in the faith, to 'be not afraid' of witnessing to the Gospel message on campus and defending the Magisterium and Tradition of the Church," Mr Inamac said.
He said he was well aware of some of the tensions Catholic students can face on campus. As a student of biomedicine, when he first began "reverting" to the Catholic faith, he experienced these tensions firsthand when various bioethical issues arose.
When he first learned about ACSA, he found the organisation's vision appealing. "That aspect of uniting young Catholics from around the country really spoke to my heart," he said. "I thought that was a very special opportunity which I had never had before."
FULL STORY
ACSA Conference encourages young Catholic students to 'be not afraid' (Melbourne Catholic)