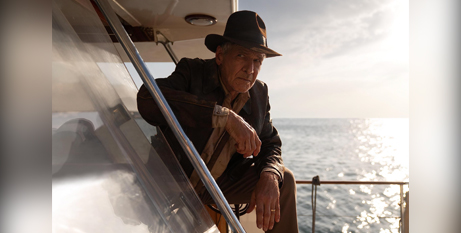 In Indiana Jones and the Dial of Destiny, the intrepid titular archaeologist races against time to retrieve a legendary artifact that can change the course of history. Source: Australian Catholics.
Audiences were first introduced to Indy in 1981 in Raiders of the Lost Ark and this is the fifth and final instalment in the series. After directing the previous four films, Steven Spielberg executive produces this one, but hands over directing to James Mangold, who has had a 25-year plus career (Copland, Girl Interrupted, Walk the Line, Ford vs Ferrari).
The film moves through time periods. We see young Indy during World War II (with CGI used to make Harrison Ford appear youthful) and moving on to the moon landing in 1969 and the day of the moon landing, where Harrison Ford (80 at the time of filming) is able to look his age.
Indiana Jones and his British archaeologist friend, Basil Shore (Jones) are caught by the Nazis trying to find the lance that pierced Jesus among a hoard of stolen treasures. While the lance proves to be a fake, there is, however, half of the Antikythera, a time-warping machine, made by the Greek philosopher, Archimedes. It is meant to be a gift for Hitler. However, there is a sinister professor on board the train, Dr Voller (Mikkelsen). Action sequences commence with train roof fights, menacing tunnels, a bombed bridge and Indy and Basil diving into a river where the Antikythera sinks.
The action does not let up. Who should arrive at Prof Jones' lecture but Basil's strong-minded daughter, Helena (Waller-Bridge, who contributed to the screenplay). She tries to recover the half of the dial from Indy, who is her godfather. But who else should be in New York, but the professor who has contributed to the rockets taking Armstrong and Aldrin to the moon.
Action takes our hero to Tangiers to an auction for the Dial and, before we know it, we are in the Aegean with a diving expedition led by Antonio Banderas, Nazis in pursuit, receiving the help of a young thief whom Helena had befriended, then to Syracuse, and expedition into the caves to find Archimedes.
What more could we want!
Review by Fr Peter Malone MSC, Jesuit Media
Indiana Jones and the Dial of Destiny: Starring Harrison Ford, Phoebe Waller-Bridge, Mads Mikkelsen, Ethann Isidore, Antonio Banderas, Karen Allen, John Rhys-Davies, Thomas Kretschmann, Toby Jones, Boyd Holbrook. Directed by James Mangold. 154 minutes. Rated M (Frequent action violence).
FULL REVIEW
Indiana Jones and the Dial of Destiny (Jesuit Media via Australian Catholics)