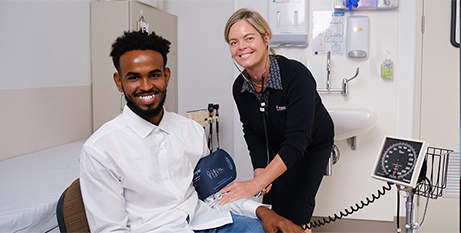 Up to 1000 people from refugee and migrant backgrounds will benefit from improved access to healthcare services thanks to a new initiative from Mater and the Queensland Government. Source: The Catholic Leader.
The Queensland Government has contributed almost $930,000 to enable Mater to integrate dedicated nurses in 10 GP surgeries in Brisbane, Ipswich and Logan – ensuring adults and children from multicultural backgrounds receive coordinated, early and appropriate medical care.
Mater Group chief executive Peter Steer said people from culturally and linguistically diverse backgrounds, including many refugees and asylum-seekers, faced major systemic barriers when accessing medical care.
"We know too many patients from multicultural backgrounds fall through the cracks of our health services," Dr Steer said.
"Often, they have little or no English, but are dealing with very complex health problems and may have experienced appalling trauma before arriving in Australia.
"Unsurprisingly, this means many people suffer poor health outcomes which we know could be avoided by connecting them to the right care at the right time."
Mater is Queensland's largest not-for-profit healthcare provider and is committed to the provision of refugee health services, including the operation of the Mater Refugee Complex Care Clinic for the last 21 years. The clinic has ensured that refugees and asylum-seekers who lack entitlement to Medicare are still able to access essential health services.
Mater's new initiative, the Multicultural Health Coordination Program, will build on the success of a two-year pilot program that has operated at five GP surgeries in suburbs with a high proportion of non-English speakers.
Queensland Health Minister Shannon Fentiman said the new service would be supported through Queensland Health's Connected Community Pathways project.
"Mater's program is a great example of community-based healthcare services delivering outcomes for communities closer to home," Ms Fentiman said.
FULL STORY
Minister backs plan for refugee health (The Catholic Leader)