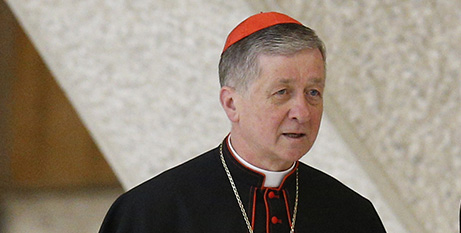 In an interview with Cologne Archdiocese's radio station, United States Cardinal Blase Cupich emphasised the importance of ending polarisation and overcoming entrenched divisions in the Church and the world. Source: The Tablet.
"It is important that we should not only try and win an argument and to convince the other side of our arguments," he said.
"We must find ways to bridge the divisions between us which polarisation has ripped open both in the world and the Church. We must listen to one another and respect one another but we must also listen to the voice of Catholic tradition."
Regarding the German synodal path initiative, Cardinal Cupich said he was not acquainted with the details but pointed out that if it was a "sort of parliamentary procedure in which democratic voting was paramount, where votes are counted and opposing arguments are presented, then from a Catholic point of view that would be difficult to defend".
He added, however, that he knew a number of German bishops and was confident they had the best of intentions.
"They are good shepherds who are doing their best to listen to the faithful and to understand their hopes and desires. I think the initiative will come to a good end."
He said he had reservations about the German initiative's call for lay Catholics to be able to hold the sermon at Mass but added that he would "have no problem with women or lay Catholics in general holding a reflection at some other point in the Mass – perhaps after communion".
Cardinal Cupich also said it was imperative to respect same-sex couples who desired a Church blessing.
"But at the same time we must ask ourselves exactly what it means to bless a union. Is it a blessing for a friendship – a non-sacramental union? We must quite clearly define what we mean by this blessing. For the moment, the Church has not yet done that."
FULL STORY
Cupich urges German Church to overcome divisions (By Christa Pongratz-Lippitt, The Tablet)