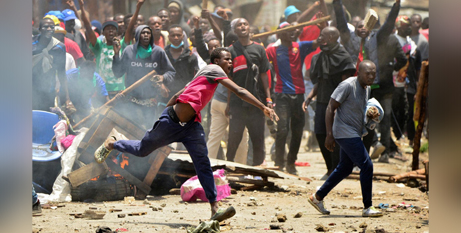 Faith leaders in Kenya are warning against continued violent demonstrations, saying they could lead the country on the path to self-destruction. Source: Crux.
Demonstrations last week against the high cost of living have left at least 23 people dead, according to a spokesperson for the UN Human Rights Office, Jeremy Laurence.
"The UN Human Rights Office is very concerned by the widespread violence, and allegations of unnecessary or disproportionate use of force, including the use of firearms, by police during protests in Kenya. Reports say up to 23 people have been killed and dozens injured in the demonstrations in the past week," Laurence said in a statement on Friday.
More than 300 people have been arrested in connection with the protests.
Anti-government protests in March and April also left at least three people dead, property destroyed and places of worship torched.
Opposition leader Raila Omolo Odinga, who called for the protests, has promised more demonstrations this week, and that forecast has caught the attention of Church leaders in the East African country.
In a collective statement on Friday, a cross-section of religious leaders, including representatives of the Kenya Conference of Catholic Bishops, the National Council of Churches of Kenya and the Supreme Council of Kenya Muslims, cautioned President William Ruto against allowing the country to descend on the path of an insurrection.
"The suffering individual Kenyans are experiencing is pushing them into hopelessness that can easily inspire insurrection," the religious leaders said in a statement.
Noting that the country was on a "downward spiral into the abyss," the clerics called on Mr Ruto to reverse the trend "by adopting policies and strategies that give Kenyans hope while addressing the economic challenge in both short and long terms".
Addressing the people of Kenya, the religious leaders offered condolences for families that lost loved ones in the demonstrations.
FULL STORY
Faith leaders warn Kenya is on 'downward spiral into the abyss' (Crux)