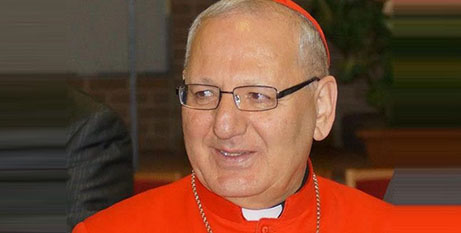 Iraq's Chaldean Catholic Cardinal Louis Sako has left his residence in Baghdad, relocating to a monastery in the northern Kurdistan region after the president of Iraq revoked a decree that formally recognised him as Chaldean patriarch. Source: NCR Online.
The move by Iraqi President Abdul Latif Rashid on July 3 is seen as a usurpation of the clergyman's position as the officially recognised head of Iraq's Catholic Chaldean Church and his position and powers to administer the Chaldean religious endowment.
The action has revoked a special presidential decree of 2013 by Mr Rashid's predecessor that granted this authority to Cardinal Sako.
Chaldean Catholic Archbishop Bashar Warda explained in a statement made available to OSV News that the rationale behind the move may have resulted from requests for a similar decree from the patriarch of the Assyrian Church and the patriarch of the Old Assyrian Church, which the president denied. Mr Rashid said the retraction of such decrees does not impact the status of any church leader in any way, according to Asia News.
"Withdrawing the republican decree does not prejudice the religious or legal status of Cardinal Louis Sako, as he is appointed by the Apostolic See," Archbishop Warda's statement said, adding that the patriarch continues to enjoy "the respect and appreciation of the presidency of the Republic as Patriarch of the Chaldean Church in Iraq and the world".
However, the Iraqi Kurdistan-based Rudaw news agency and other media reported that Mr Rashid's revocation may be precipitated by Iraqi politics.
Iraqi Christian rights activist Diya Butrus Slewa told The Christian Post the action was "a political manoeuvre to seize the remainder of what Christians have left in Iraq and Baghdad and to expel them."
"Unfortunately, this is a blatant targeting of the Christians and a threat to their rights," Mr Slewa said.
FULL STORY
Iraq's Catholic cardinal leaves Baghdad after president revokes decree recognizing church's authority (By Dale Gavlik, OSV News via NCR Online)