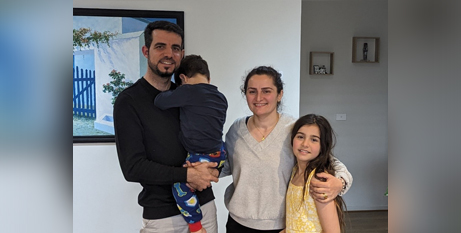 A young Iraqi couple living in Victoria has recalled their home city of Qaraqosh, where the bells of the largest Christian church in the Middle East toll again. Source: Aid to the Church in Need.
Quaraqosh is a city in the Nineveh plains, where Iraqi Christians who trace the roots of their faith back almost to the dawn of Christianity itself regain hope after the devastation caused by ISIS.
For Ehab and Athraa, now living in Warragul with their two young children, Qaraqosh and its vibrant churches have been in their hearts ever since they fled in August 2014 when ISIS destroyed every house and church in their town.
The memory of the beautiful vibrancy of their seven churches, including St Mary Al-Tahira Al-Kubra Church (Immaculate Conception), a Syriac Catholic Church packed with worshippers and church bells ringing, sustained them in their exile and search for safety.
The couple were thrilled to see their church featured on banners and brochures from pontifical charity, Aid to the Church in Need. They were baptised, received their first Holy Communion and married there and they knew the priest featured. They carry so many memories but little in terms of photographs and belongings as they fled with just their clothes on their back. Everything was destroyed by ISIS.
"We didn't expect what happened would happen. We thought that this was something confined to the history books when in earlier generations the Turkish Ottomans invaded that part of Iraq (then part of Persia)," said Ehab.
"The morning before ISIS arrived, the Church bells tolled to warn the residents of imminent danger and because it was so unusual to hear this, it was a signal for the residents to flee. Indeed ISIS bombed and burned each and every home and Church those few days and used the Immaculate Conception Church as target practice for their fighters."
Ehab, Athraa and their daughter fled to Ankawa, northern Iraq and two years later, they lived in Jordan for three years, before they arrived in Australia via the UN Refugee Special Humanitarian Visa. Ehab was given practical support to apply for work and within three months obtained a job in his chosen field in Gippsland.
Ten months ago, they purchased their own home in Warragul and their son was born there.
"God had a good plan in bringing us to Australia so that we may say that special word of encouragement to someone else that may change that person's life."
FULL STORY
Iraq: The Bells Toll Again (By Angela Lecomber, Aid to the Church in Need)