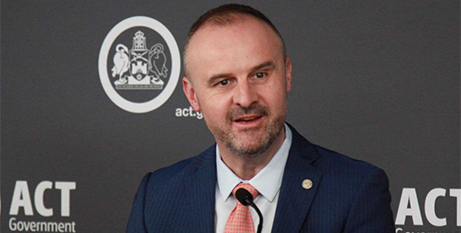 The ACT Government has attacked a federal bill into the Calvary Public Hospital takeover as "inappropriate" and "unnecessary", and said, if passed, the act would impinge on the right to the territory's self-determination. Source: Canberra Times.
The Barr Government has put forward its views in a submission to a federal parliamentary inquiry into a bill from a federal opposition member to compel an ACT Government inquiry into the controversial takeover.
The submission said an attempt to force an inquiry into the compulsory acquisition of the Bruce public hospital failed to take into account the accountability mechanisms of the ACT's system of government.
The bill was also "inconsistent" with the Self-Government Act, the Government said.
"The Self-Government Amendment Bill ignores and purports to override these normal activities of the government of the ACT," the submission said.
"It would direct 'the government of the territory', which is undefined, to undertake an 'inquiry', of unknown power, scope and authority, into legislation enacted by the Legislative Assembly and to which its ordinary processes remain applicable."
Queensland Liberal National Party senator Matt Canavan introduced the bill to the Senate last month, following backlash against the move to take over the Calvary Public Hospital Bruce.
The running of the hospital, now known as North Canberra Hospital, was taken over by Canberra Health Services earlier this month.
Calvary pursued legal action against the ACT Government over the compulsory acquisition in the Supreme Court but this was unsuccessful.
The federal opposition was against the move and called on the Prime Minister to intervene in the matter, however, Anthony Albanese backed the move.
Senator Canavan initially attempted to establish a Senate inquiry into the forced takeover but was unsuccessful. The federal Greens controversially combined with the Coalition to refer Senator Canavan's bill to a Senate committee.
FULL STORY
Calvary bill 'inappropriate' and impinges on self-determination, Andrew Barr says (By Lucy Bladen, Canberra Times)