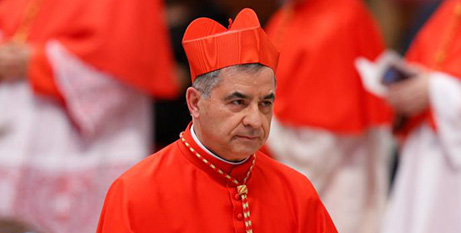 The Vatican public prosecutor has asked the judge in Cardinal Angelo Becciu's financial malfeasance trial to sentence the embattled prelate to seven years and three months in prison. Source: CNA.
The prosecutor has also called on the judge to confiscate more than $A22 million in connection with his alleged mismanagement of Holy See funds.
Cardinal Becciu has been charged with embezzlement, abuse of office, and other allegations regarding a series of financial investments that prosecutors claim were meant to benefit his family at the expense of the Vatican.
The trial is the culmination of more than two years of investigation by the Vatican into what happened in and around the Secretariat of State's 350-million-euro purchase of an investment property in London between 2014 and 2018.
The Vatican maintains that the deal was problematic and designed to defraud the Secretariat of State of millions of euros.
The defendants in the trial have been adamant their actions were above board and that Vatican authorities were in the know.
Cardinal Becciu has also been accused of funnelling tens of thousands of dollars to a charity run by his brother.
Vatican prosecutor Alessandro Diddi on Wednesday asked Judge Giuseppe Pignatone to serve Cardinal Becciu with seven years and three months in prison, to fine him more than $A16,000, and to confiscate upwards of $22 million.
Cardinal Becciu's lawyers argued that the cardinal had always been a "loyal servant of the Church," the AP reported.
"Not even one day would be a fair sentence," the lawyers said.
Mr Diddi also requested prison sentences for other defendants in the trial, including 13 years for Fabrizio Tirabassi, a former official in the administrative section of the Secretariat of State.
In addition to recommending prison sentences, the prosecutor requested the confiscation of a total of $A683 million from the case's 10 defendants.
FULL STORY
Vatican prosecutor seeks 7 years in prison, $15 million in cardinal's financial trial (By Daniel Payne, CNA)