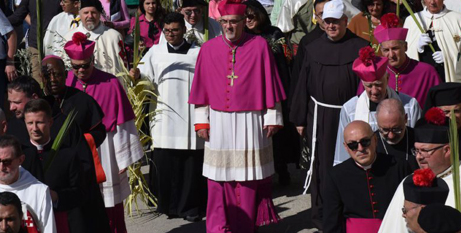 Cardinal-elect Pierbattista Pizzaballa has spoken about the surge of attacks against Christians by Israeli extremists, saying Christians in the Holy Land don't want special protection, but do want their fundamental rights to be ensured. Source: Vatican News.
The Latin Patriarch of Jerusalem said harassment and attacks against Christians in Israel are acts of a minority of Jewish ultra-nationalists that breed in a specific cultural context, not an expression of growing intolerance in wider Israeli society.
Vandalisms targeting churches, cemeteries, and Christian properties in addition to physical and verbal abuse against Christian clergy have seen an upsurge in the past months in the Holy Land, amid ongoing political tensions within Israeli society, and re-escalation of the Israeli-Palestinian conflict. The most recent incidents have seen extremist Jews attempting to occupy churches in Haifa.
Cardinal-elect Pizzaballa told Vatican News that acts of religious intolerance are not new, but have significantly increased in recent times, especially in Jerusalem, albeit they cannot be defined as persecution.
He said the increase is a matter of concern for Christians, but also for Israeli authorities, though efforts to reduce these incidents haven't been very successful.
The situation is making Christian communities more and more nervous. However, he said, Christians in the Holy Land don't want special protections, but only respect of the fundamental rights that a democratic state should guarantee to all citizens and communities, irrespective of their religious affiliation.
Cardinal-elect Pizzaballa said there are "reasons for hope" because these incidents have spurred strong reactions within Israeli society.
"I believe that over time this awareness of the problem will bear fruit," he said.
FULL STORY
Patriarch Pizzaballa: Christians in Holy Land want their rights respected (By Lisa Zengarini and Jean Charles Putzolu, Vatican News)