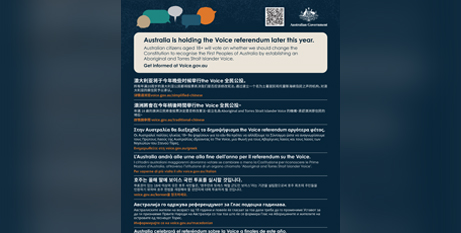 A migrant and refugee service has called for better education on the proposed Indigenous Voice to Parliament for non-English-speaking people after it found most people that access its services knew nothing or very little about the referendum. Source: ABC News. 
AMES Australia, which offers settlement services, surveyed people accessing its education and support services in Melbourne and Sydney. Of 130 respondents, 42.5 per cent were not at all aware of the Voice, and a quarter were only partly aware.
Half the respondents said they knew "nothing" about the actual proposal.
Between 2000 and 2021, three million permanent migrants arrived in Australia, of whom 59 per cent, or 1.8 million, are citizens who can vote in elections and referendums if they are over 18.
Half of the respondents to AMES's survey said they were not sure if how they would vote in the referendum, while 37.5 per cent said they would vote Yes and 12.5 per cent said they would vote No.
In AMES's survey, after a control group of 30 people was given a 30-minute explanation of the Voice, half said they knew most of the details of the proposal.
All participants in the control group concluded they supported or mostly supported the Voice.
Laurie Nowell from AMES Australia said there was a need for more information about the Voice targeted to migrant and refugee communities.
He said the Government's information campaigns on the Voice had not yet reached the communities that needed it.
A date for the referendum is yet to be announced, but Prime Minister Anthony Albanese has confirmed it will happen before the end of the year.
A spokesperson for the Australian Electoral Commission said they were translating the Yes and No campaign materials into more than 30 languages and would be doing the same for its own campaign.
"We know there hasn't been a referendum in over 24 years and understand there is a knowledge gap among all Australians — including those from a non-English speaking background," they said.
FULL STORY
Calls for education as survey shows little knowledge of Voice to Parliament referendum among migrants, refugees (By Ashleigh Barraclough, ABC News)